M E D I A and A N I M A T I O N
Clicking on the following links will launch either a Shockwave or Flash Player in this frame. If your browser is not equipped to play these files, go to the Macromedia web site to download the appropriate players.
Theory:


Evolution of the Mitochondrial Genome


Polymerase Chain Reaction


Cycle Sequencing

Problems:


Solving the Mystery of the Neandertals


Solving the Mystery of the Romanovs

Video: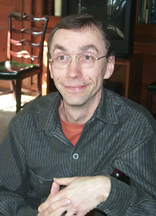 The following video clips are from an interview with Dr. Svante Pääbo, Director of the Department of Evolutionary Genetics, Max Planck Institute. Select the clip will launch the RealPlayer in a separate window. If your browser is not equipped for RealPlayer content, go to the Real web site to download the free RealPlayer.
Clip 1: 1 minute 27 seconds
What is the age limit of DNA?

Clip 2: 45 seconds
What contributes to DNA degradation?
Clip 3: 1 minute 15 seconds
How to pick the best sample from which to isolate DNA.

Clip 4: 1 minute 12 seconds
Problems with getting "true" ancient DNA.

Clip 5: 50 seconds
How he ended up working with ancient DNA.

Clip 6: 41 seconds
The inheritance of accumlated mutations.

Clip 7: 29 seconds
Why it was relatively easier to reconstruct mitochondrial DNA sequences.

Clip 8: 1 minute 8 seconds
The Neandertal question: are they related to modern humans or not?

Clip 9: 40 seconds
What molecular genetics tells us about the Neandertal relationship to modern humans.

Clip 10: 59 seconds
Other possible ancient DNA results.